I was chatting the other day with one of my cam model friends Ashley Steel and she made the following statement:
"… I will also tell you I have run my own affiliate programs and I think it is best to use the sites and let them bring you traffic. You get higher commissions on your own traffic so self promo is still a great idea but a girl just on her own is NOT going to make any money, trust me. They SHOULD be on the sites using THEIR traffic. I ran my own programs cause I never wanted to pay anyone 50% or more for sites. After 5 yrs and $45,000 lost I would be HAPPY to go back and give them 50% — 50% of $6000 is a hell of a lot more than 100% of nada. Not to mention when you can make $100 an hour on a network, or spend 6 hours making $30 on your own site why on earth wouldn't you just use their stuff? Also they keep their members cause they have a lot more girls. If you're not on someone else's site, and you take a day off you could lose valuable customers you spent weeks earning…"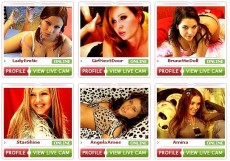 I'm getting a lot of complains from beginner cam girls who are not happy with cam networks (cam sites) because of the high commission they charge (up to 70%). What Ashley means is if you know how to promote yourself, i.e. get your own traffic, you can get a lot more from cam networks. Some cam networks would pay you up to 40% in addition to what you're getting if you sign up a new member to buy your show.
For example you may have your own blog where you publish short articles with teasing pictures. This blog is going to attract some traffic from search engines. Once you see that number of visitors to your blog grows you can start announcing your webcam shows linking to cam site you working on. Now let's say one of your blog fans is eager for the private show with you. He clicks a link in your announcement, gets to the cam site, registers and pays for the show. So, now you are going to get your usual 30% plus additional 40% because you brought a new member to the cam site.
Cam networks pay you such a big commission for bringing a new member because they know that if he's already spent money for your cam show most likely he will spend money on other models too.
The point of all this is that you need to know how to get your own traffic. Once you have it you can get money for your traffic. Ashley Steel described one of the ways how you can profit from your own traffic. Anyone wants to share other ways they use?