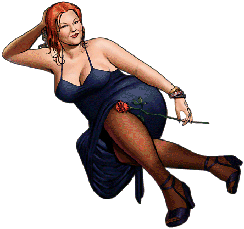 In a world obsessed with perfect bodies and image being a BBW Model can be very difficult at first. Let's face it, some gentlemen aren't gentlemen at all, and they take it on themselves to let us know just how undesirable our extra weight and curves are. For every one of those however there are at least a dozen who love our voluptuous bodies and our larger than life attitudes. I should know this first hand, because I am a proud mature BBW wearing a size 16/18.
When I first started out as a Webcam Model it was extremely difficult for me to feel comfortable on Cam due to those hecklers until one day a wonderful man gave me the following advice I would love to pass along to you now.
"There are millions of women online in all different sizes, colors, ages and attitudes. No matter who they are there are always hundreds of men who see them as their living fantasy. You are mine! When you look in the mirror and see fine lines around your eyes, I see only how your smile reaches your eyes. When you try to hide your belly, I want to rub my face all over it and hold you tight. You are my voluptuous Queen and I adore every single inch of you! Trust me I am not the only one who sees and thinks that. Beauty is in the eye of the beholder. If you feel beautiful and accept yourself for whom you are, others will see you shine. You will become almost magnetic in your sex appeal. Remember that part of the whole package is your attitude! You are a BBW, which means you should have a larger than life addictive attitude."
This gentleman was 100% correct by the way. When I go on Webcam now I don't allow thought of self doubt to enter my mind at all. I have done all the preparations before hand to assure that I KNOW I look my absolute best. Nobody can please everyone, but I am not here to please everyone. I am here to enjoy myself, make my money and assure that my paying customers have a great time with me.
That is another thing you always need to keep in mind as well. Enjoy what you do and love who you are. There is nothing more addictive really than watching a woman having a blast, being natural and not compromising herself. I never do anything I am not comfortable with and that makes a big difference for me as well. Being a BBW is not shameful, it isn't something you need to try to hide, it is beautiful in a deliciously soft and sensual way.
Besides who doesn't like cuddling up to a "Teddy Bear" sometimes and being made to feel like they are the only one who matters? Well guess what fellow BBW's; you are the perfect Teddy Bear size.
So heads up ladies put on your paints and frills or leathers and let the show begin. It is time you let your big beautiful selves shine!