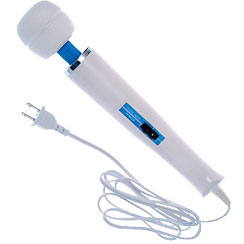 So what do web cam models actually do to make sure customers keep coming back? We talk to customers, flirt and eventually engage in some virtual play. But any cam model can give a mediocre show. To stand out and develop regulars you want to make sure your shows are sexy, fun and engaging. One way to do this is having the right props. Not all web cam models use toys but many find them very helpful in giving a show something extra. You should also expect to hear requests for toys and it's always best to be prepared. Personally, I find that having lots of toys makes my space feel cluttered so I've narrowed down my selection to just a couple of reliable ones. Experiment and do what works for you.
The toys most in demand tend to be "realistic" looking dildos, for obvious reasons. There are many varities you can choose from that range in price, style, and material. They even have ones that squirt! Strong vibrators like the Hitachi Wand and colorful glass dildos are also popular choices. Size is an issue when deciding what toy to use. It's important to balance comfort with customer demand. Many customers will ask for the biggest toy you have so don't show one on your set unless you know you are comfortable using it. You'll see that the art of illusion is a powerful tool here.
Whatever toy you decide to get, make sure that if it's used for insertion, it's high quality. You can find and succesfully use a cheap vibrator, but don't skimp on anything you put inside your mouth, vagina or anus. It's important to get high grade silicone, glass, metal or wood toys for your shows for three reasons:
The first is your health. Cheap dildos release chemicals and can irrate you and possibly lead to infections or allergic reactions.
Second, you get what you pay for! If you buy a cheap dildo, don't expect it to last for very long. They are known to flake, break and just generally look cheap.
Finally, comfort is going to be a strong motivation once you start working 2 to 5 hour days or longer. Constant penetration for prolonged periods can get painful, even with a good amount of lubrication. Smaller sized, high quality toys, especially glass, work well and are easier on your body.
So, you have a couple of good, realiable and fun looking toys, now you need to take care of them. The first thing you should have on set is something to clean the toys with. You can purchase toy cleaning wipes at the same place you purchased your toy. You can also use feminine wipes found at any drugstore (baby wipes are not ph balanced for adult use). Or you can simply wash your toy after each show under hot water and mild soap. It's very important to keep your toy clean and dry to avoid infections.
Be creative with your toys. If you get a glass one or anything other than a realistic one, make sure it has lots of color. You can also have props on your set to add to the atmosphere and to use at customers requests. Props like cuffs, floggers, and high heels, anal toys (i.e beads and plugs) and plenty of lube are also good items to keep in stock. Make sure you know how to operate, clean and recharge each toy.