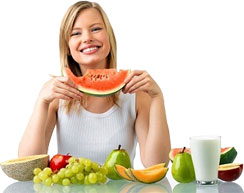 Often,motivated cam models will work a regular 8 hour day with a couple of breaks in between, working several days a week–that's a lot of stress on your body when you are working in the sex industry. Like many jobs, there are things to consider when it comes to your health. Just like those working in health care of child care professions, you need to take steps to ensure that you stay healthy, happy and infection free. Because you are most likely going to be playing with toys, lubes and fingers/hands for a few hours, you are at risk of getting some very unpleasant infections such as urinary tract infections, bacterial vaginosis and yeast infections.
You can prevent having to deal with these very annoying, painful and sometimes expensive infections which will put you out of work for at least a few days while treating them. The most important thing to do is drink plenty of water. This flushes your body of toxins naturally and will help you fight off any infections before they get worse. Another must is keeping your toys and hands very clean. This means washing your toys everyday before work, after work and during breaks. Most toys you can clean with mild soap and hot water. I recommend boiling toys for a few minutes once a week. It's also important to purchase high quality toys made of high grade silicone, glass, or wood instead of plastic or other cheap materials. This can prevent an allergic reaction. Also, be sure to keep your nails trimmed and clean and never use the same toy for anal play as you do for vaginal play without washing it first.
Other things to do to maintain your health while camming include sticking to a healthy diet–low sugar and carbs, plenty of vegetables and lean proteins. Limit caffeine or find an alternative. Take a multivitamin everyday. I also strongly recommend taking cranberry juice or tablets daily as this will prevent urinary tract infections. Probiotics are also a great way to prevent both yeast infections and bacterial vaginosis and generally maintain a health balance of bacteria in your vagina.
Lubricants are also important to pay attention to. Cheap lubricants can irritate you or give you an allergic reaction. For continuous use, it's best to invest in all-natural lubes that are gentle and healing on your skin. I have found that pure, raw and organic coconut oil is the best to use due to its soothing effect on skin and its anti bacterial and anti fungal properties which help to keep yeast infections away.
Be sure to wash thongs and costumes that come into contact with your vulva everyday and cleanse that area after your work day. Do not douche! Douching actually can cause infections. If you notice an infection coming on, you can gently douche with a solution of apple cider vinegar and water to re acidify your vagina. There are many natural remedies online to try before turning to prescriptions which can leave the source of the problem untreated.
Remember, keeping your body healthy and vibrant is key to being a successful web cam model and will make your experience a lot more fun!