With the popularity of social networks such as Twitter and Facebook, many cam girls leverage them to build a loyal fan base. They have thousands of followers who impatiently waiting for the next update, preferably candid picture or video. And it's so easy to do such updates these days with the smart phone devices such as iPhone and Android. But many cam models are not aware of the fact that by sharing candid pics and videos taken by smart phones, they give up the geographic location of where those pictures were taken (in many cases the places where they live!). This could lead to the possibility of virtual stalkers to track you down in the real world!
Let me show you the real example so you can see how dangerous this could be. I saw this tweet the other day from one of the models I follow on Twitter:

The link takes you to her Tumbler profile where she posted the candid picture taken via her smartphone. So I saved this picture on my computer, opened it in Photoshop, and viewed the picture file info. And here is what I see: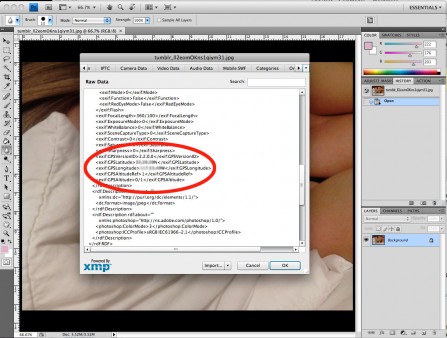 The picture file contains longitude and magnitude of the place where the picture was taken (most likely in the model's apartment from what I can see on the picture). So I just copy these two coordinates, paste it into Google Maps and here we go: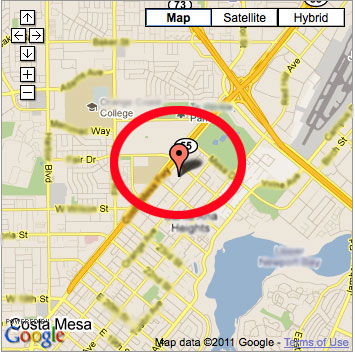 It shows me the exact location of where the picture was taken. I can enlarge it and see the satellite view of the building where model lives.  So it becomes really easy for stalker to hunt the model down in the reality. You never know!
You must be scared to death now, at least those of you who have posted candid pictures of yourself on picture sharing sites in the past. But don't worry. I'll show you how to fix that.
First of all you need to make sure that geo location services are turned off for your smart phone's cam. I will guide you through the steps you need to take assuming you have Apple's iPhone. But if you have other smartphone device, the steps should be similar. So for the iPhone here is what you should do:
1. Click the Home button and go to the Settings
2. Find the Location Services option (if you haven't upgraded your iPhone lately then you should click on General first). If you see OFF next to it, you should be fine and just do nothing. If you see ON then you could be in trouble. Just click the Location Services and it will take you to the next screen: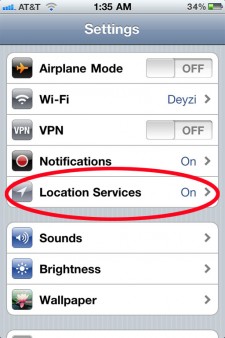 3. On the next screen you'll see the list of applications on your iPhone that use geo location services. Look up the Camera application (it should be on top of the list). If you see ON next to it, you are in trouble: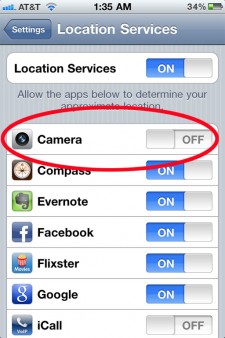 Turn this option off and now you can safely share your candid pictures taken by this iPhone. Your geoloaction won't be stored with picture file. Also, to be safe, you need to go to each of the sites where you shared pics taken by this iPhone and delete them as soon as possible.
Be aware that the same problem can exist when you use other similar devices such as digital cameras and camcorders. Check the user manuals of the devices you use to make sure that they don't attach the geolocation information.
The virtual world of webcam modeling should remain totally isolated from the real world to keep the models safe. So don't give up your physical location, follow the instructions above and you'll never get into trouble of meeting virtual stalker in real life.