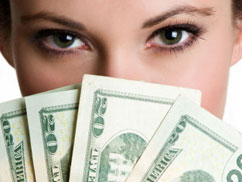 These days it is getting more difficult to find the right payment processors for your own independent webcam business with the increasing stance against adult industry and the high fees that Visa is now charging for "high risk" businesses.
One of the most important things to keep in mind when looking for the right payment processing option for your business is the percentage and payment turn around they are offering. Some of the companies out there take as much as 30% of your income, which negates the entire reason you started your own independent webcam business to begin with. The goal being that you keep as much of your hard earned cash for yourself as possible instead of shelling it out to others.
Another important thing to consider is the track record of the Company you want to give your business to. How long have they been around? Are they known for their integrity or are there a lot of complaints against them from merchants and customers? A little Goggle Search and some posts on related Adult Webmaster Forum Boards will bring you the necessary information.
Next of course you need to take into consideration what type of services you are offering. Are you trying to sell Webcam Shows only? In that case you need a company that deals in "block charges" or pay per minute charges. Are you looking for a Membership option? Again you need to make sure this is available with the provider. For those who wish to sell goods (used panties, hardcopy videos etc) along the way the options become even more narrowed down, since many of the online adult billing providers don't cater to this but are opting for digital transfers only. Always make sure to read their fine print! I know this seems obvious, but most people overlook it. When running your own business, especially in the Adult Entertainment Industry, you can't afford not to look at every part of any contractual agreement you sign.
Recently, within the last 6 to 8 months, the credit card companies have added higher fees and requirements again, which translates to higher "credit card acceptance fees" via some of the better billing providers out there.
Be prepared to have to pay a $500 to $700 annual fee to accept Visa in some cases. Again read the agreements carefully since in some cases it is waved if you make over a certain amount a month and don't have any chargebacks.
A few of the companies you may want to check into are CCBill, Verotel, and Zombaio. Each of these three Companies have a good track record and have been around for a while now.
You can check into Partykey.com as well if you are opening a Membership Site or want to accept Tributes. Be aware that their percentage is high so and they pay out only once a month after you have reached a minimum payout goal.