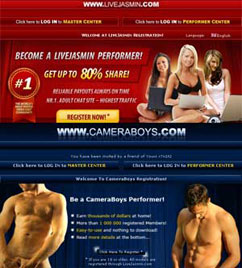 There are two different schools of opinions on the wisdom of becoming an independent webcam Model. For many the fear of high cost and extreme time involvement of getting becoming lucrative on your own is a deterrent as my friend Luke Madison from BecomeWebcamPerformer.com has pointed out in several of his posts.
Luke has given many great tips for beginner male and female webcam models who want to remain with mega webcam model websites or are just starting out in their online webcam model careers. His e-book "How to make your first $10,000 online" does have a lot of valuable information for beginner male and female webcam models to offer.
When you first start out as a webcam model regardless of your gender a mega webcam site is not a bad idea at all. You don't have to worry about building your own traffic and can concentrate of learning your skills as a webcam performer. Something which is very important before you take the plunge into becoming an independent webcam model and owning your very own webcam model website! Once you have learned the essential skills and have created a following for yourself it is time to move on, not before. Where once there was a high cost of starting up was the key deterrent, which no longer is a factor. As you know my service gets you started with a small one time payment.
You can never have enough information as a webcam model. I would say if you are brand new you might want to read both blogs carefully to see where you feel comfortable and fit in. Visit my friends blog at BecomeWebcamPerformer.com and learn the very basics including his reviews on some of the mega webcam model websites and when you are ready to take the leap or need a bit more advanced knowledge you come here and read the information given to you by some of your fellow webcam performers. Nothing like learning from those who are walking the same path as you.