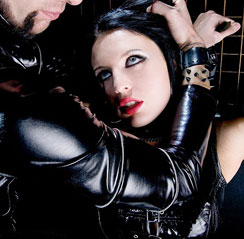 In this article webcam model Niki talks about niche markets and shares her experience with breaking into BDSM community as professional submissive.
For me, one of the most rewarding things about being a cam model is having virtual strangers entrust so much of themselves in my confidence. Never is this more evident than in the fetish communities, where discretion can understandably be of the utmost important to people who, sadly, are sometimes not out to their loved ones about their often unpopular—alrthough in no way less valid—desires.
True, catering to people's specific fetishes is not everyone's cup of tea—although I would argue that every area of sex work caters to fetishes; it's just that the fetishes of the BDSM communities are more frequently considered outside of the mainstram than, say, the fetishes of the Maxim-loving, big-breast-rubbing set. The all-too-common social marginalization of such niche markets, though, makes focusing on them all the more fulfilling—and, it should be said, often all the more lucrative.
I, for one, have never been shy about being a submissive. Perhaps it is this knowledge of myself (and passion therein) that makes me care so much about serving others. Perhaps it is the more cynical fact that there is a market, often under-served, often under-whelmed—and often, to be quite frank, with wallets as deep as their desires—and where there is desire, there is demand. And lots of it.
Since beginning to market myself as a professional submissive, I have felt fulfilled like never before. Like porn queen Nina Hartley, I truly feel as if I'm performing a social service—and, as someone who gets off, copiously, to the idea of serving, this is the best of all possible worlds.
What more, then, can I say? Focusing on BDSM is certainly not for the faint of heart. It is not a get-rich-quick scheme—but neither is camming, or any adult work for that matter. Working in pornography, however peripherally, requires far too much emotional investment, if you're at all serious about your work, to be considered lucrative simply for financial gain. But if you have any inkling of enjoying the darker side of sex; if you like being entrusted with the fantasies, fears, and feelings of interesting and often kind people; if you get off on playing with power, with gender, with roles in general—then fetish work mght very well be for you. It has certainly been quite the journey for me, thus far, and I very much look forward to turning the next dark corner and seeing what lies beyond.