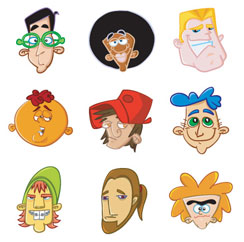 This blog post was written by independent webcam model Stacey. She is absolutely right – choose your niche and stick to it!
"Can I Say No?" – so many new cam girls ask this question. It might seem like an odd question but it is true. There are so many reasons that a cam girl might think she can not say no. The big one is money. Many new cam girls might think, if they do every type of shows and everything that guys ask, they will make more money. While this might be true in the short term, it is not a good way to be a long term successful cam girl.
I will give you a personal example. During my first year of camming I did a lot of shows that I was not 100% comfortable with or where I was pushing my limits. I had one cam show where a guy asked for something that needed to be done in a extreme way. I told him that I have never done it before, that it would be hard for me to do but I was willing to try. Well I pushed my limits for him and at the end he got all pissed off at me and wanted a refund. Looking back at it now I should have never done the show in the first place. I understand now why he was unhappy – it was not as extreme show as he wanted. I was upset because I pushed my limits and humiliated myself for a guy and he was not even happy.
Cam girls should never do anything on cam that "they" feel will humiliate and degrade them. No amount of money worth losing your self-respect. Agreeing to the show that is outside of ones comfort zone normally puts them in a bad mood. No one likes upset and unhappy cam girl. So why let the asshole ruin it for the nice guys. There is no reason to do anything that one is not comfortable with. There will be other guys and other shows that one will be more than happy to do.
There are girls out there for every type of guy and guys out there for every type of girl. It is important to set ones limits and choose the type of guys that one wants to work with. The nice thing about being a cam girl is the freedom that it gives. This freedom does not just include the hours that they work, but also the type of shows they do and the type of guys that they work with…. being a cam girl gives ones the freedom to run their own business. This means setting their limits and choosing their customers. Work with guys that you like doing things that you like and you will make lots of money and be a successful and happy cam girl.