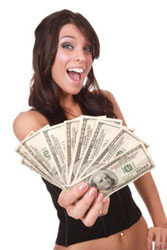 Zombaio is a third party processing service that is easy to use for anyone hoping to branch out and work with their own webcam services or pay site. Just like most services in the adult industry, there are pros and cons that can determine if they are the right service or product for you.
Pros
You don't need a business license if you are an independent worker and will only be required to register your Social Insurance (or Social Security) number with Zombaio to get access to their service.
Setting up the system can be quite easy when using the non-recurring payment structure, as you only need to copy and paste the html code into your signup page to get it started. Once your paperwork is in order, you can be set up and operational within one business day, meaning secured payments can start streaming through in next to no time (some third party processors can take up to several weeks before being fully useable)
You can opt in for email notifications about payments made to you, supplying you with the username and email of your client, providing an easy and fast reference of payment confirmation at the beginning of each cam show
Setting up the system where clients can purchase credits for webcam shows can be difficult and would require extra experience or assistance from a knowledgeable friend to set this up. Zombaio has a preset value for price per credit for clients use which is not changeable, however the preset value is reasonable so you can leave it as is if you want
Cons
While Zombaio is overall relatively easy and fast to set up, there are aspects of it that may require a further technical knowledge including setting up your own website, understanding how to use FTP and editing html code. This can be hard to impossible for a model that doesn't have any experience with these parts of an online business however there are usually techs available to assist with a lot of the set up if you need.
Setting up a virtual wallet to enable revolving credit, which is ideal for webcam shows is much more difficult than sticking to the simple one time payment method (which lets your client send you money before the cam show) which can be useful but not quite as convenient
If you don't have much computer experience, it's best to choose the non-recurring payment structure because it is very easy to set up, however this can cause some confusion between your client and yourself if he pays ahead of time or pays too much/too little for the session. It's best to contact the client first and arrange a booked appointment time before he pays to save problems
As a whole, the service that Zombaio provides is much better than a lot of the other competitors out there and the only major problems you may find will depend on your level of experience with website building, html and technical set-up.
Have you had any experience with Zombaio? If so, please share.