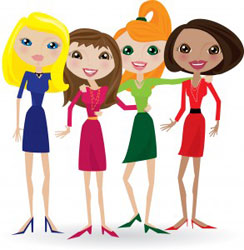 by DynamiteXXX
http://dynamitexxxcam.com/
I firmly believe that Social Networking (like Twitter and blog posts) with other Web Cam Girls works! Not only does it get me more exposure on the World Wide Web (which in turn will help me make money) but I believe it also provides your guests with more credibility.
If your guests see that you are actively involved in the web cam community and see you interacting on a friendship level with other webcam models then they get the sense that you are authentic.
I have compiled a list directed mostly to Independent Web Cam Models but for a typical Web Cam girl working a big network site some of these ideas can still work for you too!
1. Healthy competition is good! I know I can't be around my guests 24/7 so I provide them with referrals with my closest web cam friends. It keeps them focused on the Independent market.
2. Don't be afraid to ask other web cam girls what works for them. We all like being asked questions, so send her a message! She may also be glad to have someone to network with and bounce ideas with. You never know when you may make a new friend!
3. Add a page of Friends and exchange banners/links. This gives you more exposure and Google likes to see back links on pages which will help your site to rank better.
4. Blog about your Friends. Every so often I recognize my web cam friends with a blog post about them, adding in their links to gain them some exposure. I think it shows your guests you are not afraid of competition and we all like to be noticed. It makes us look human.
5. Add models to your Twitter. Interact with them, mention them in a tweet, Retweet theirs and I bet they will Retweet one of yours back.
6. Create some videos together. Whether live or over a messenger service. I have made a few videos with a few friends over skype and they sold pretty quickly. I mean what guy wouldn't want two beautiful women in one video?! Add both your links so you can get twice the exposure.
7. Comment on other models blog posts. Just be sure it's genuine and flows with the topic. You don't want to look like a spammer. Be sure to include your website so other readers can find you easily. Make notes of where and when you posted comments so you can see if the administrator approved it.
Make sure to check your Google Analytics often to see what site sent the best traffic to you and what was worth your time.
Social networking for me just comes naturally so writing a standard operating procedure points may be missed. If you have anything to add, I encourage guests and models to comment so that as independent Models we can provide the best service possible!