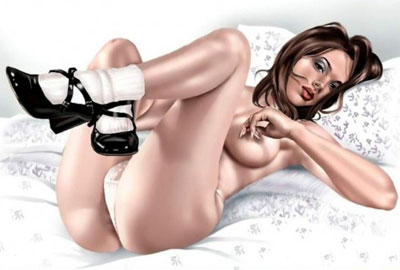 So you've decided to be a cam model? That's awesome, but there are a few things you should know before you start.
There are a variety of websites like chaturbate.com, myfreecams.com and much more. To get started on one of these, you'll need picture ID and a picture of your ID next to your face. (Don't worry this is confidential and is only used for age and name verification)
Once you get started, it's a good idea to know what you're willing to do…there are many kinks, fetishes and the like that your customers are going to want you to perform or ask from you. Don't worry, most of the time they aren't bad. Mostly it's foot fetishes and spanking. There are guys that will ask to see weirder, and more disgusting things, but that's rare. So do some reaserch. Watch other cam models and the chat bar to see what people like.
You will also need a name. Don't make it something long and complicated like "iliketochatonchaturbate". You'll need something that your customers will remember. Take your middle name, a pet name, or your eye color even! Then if you're sweet, pretty, curvy, or whatever, combine it! Take for example if you have blue eyes, and your pet name is Kat, make it something like "BlueKittyKat" or just "BlueKat".
Set up a bio next, a little about you, how old you are, what you're willing to do and not to, what you don't want to be called etc. Look at other models bios for a guideline.
Next off, if you join a site where you are allowed to be on cam during your verification process, use that to your advantage! Get on cam, look cute not slutty (unless that's your thing) and just talk to people. Don't get naked until you can receive tips or tokens! Why give it away for free? That's not what you joined for. Be flirty, cute, bubbly, and talk talk talk! Once you can receive tokens or tips then go for whatever you want.
Don't give away personal info!!! It's a bad idea. If you want to give out an email make one seperate for your chat account. Most sites allow you to block a state, Provence, or even a whole country! Take advantage of that. You don't want your old math teacher or your cousin seeing your goodies! Also never give out your name, phone, social media name or anything. A lot of models have Instagram, Twitter or Facebook accounts. Those aren't their private ones! Those are ones directly for their fans and whatever website they are on cam. Models also sometimes offer kik, snapchat or whatsapp. Think long and hard about this. Do you want your phone blowing up all hours of the day or when you're not in the mood to talk? There's nothing wrong with talking to people outside the site. Just be very careful and very mindful of the risks at hand.
After you are verified, get on cam and make that money! Do whatever you feel like doing, set a goal and boundaries. Don't be on your phone. Don't leave the chat unattended. If you can help it, put your phone on vibrate and next to your computer so you can see what's going on if something happens and you need to respond. Also if you have to leave the room for a reason, bathroom breaks, food breaks, to stretch, let your customers know "hey I have to go do something, I'm going offline but stay tuned and I will be back in _____ minutes!" Stick to it too. If you're not back before or at that time your viewers will go elsewhere. Talk to your customers too. I see a lot of models just sitting there waiting for something to happen. That's no good and it's boring. Have fun with it!
While you're ready to perform, have all your tools and costumes next to you. Have your toys on your bed within arms reach, have your outfits hung and nice somewhere that you can show what you have to wear without digging around. That's another common mistake models make. And if you happen to change into something else, turn around and let the viewers watch! Nothing wrong with a quick peek while they're waiting, and it gets more viewers in while you're getting ready for your next set.
Be mindful of where you are. Be somewhere comfortable like your couch, computer desk or even your bedroom! Also have lighting. Turn your side table lamps on, your overhead room light, living room lights, or even open the blinds if it's light outside! Natural light is the best. Your customers want to see you. This is all visual. If you perform at night time, have at least two lights on. Get those white lightbulbs or the ones that make the room look like it has natural light. I see too many models performing by the light from their computer. Not sexy.
Internet connection is another key part. Try to be as close to your router as possible for the best FPS (frames per second) and you won't look glitchy or grainy to you or your customers.
While you are performing, you will come across some weirdos, jerks and requests that you won't be willing to do. If someone asks to see your feet and you don't want to show them, just simply tell them "sorry I don't show my feet!" If they persist, the block or silence button is good. There are trolls that cruise sites and flood the room with text. Those are the ones you want to ban. Also keep calm and cool. Nothing is more unattractive than a model flipping shit because someone is taunting her. You'll lose followers and viewers for good if you rage out on someone.
Now as far as making money…that's up to you! How well you perform, the hours you are on are all a factor. Remember don't give it all away in the beginning or else nobody will want to tip you. They'll expect a free show every time. There are models that work that way, but for what they show and how long they are on, it's more unbenificial to just bear it all immediately.
Always look good. Don't roll out of bed and get on cam. Put your hair up, straighten it, put a little cover up on or whatever. Your customers want to see you looking good or your best. Not with bed head and runny mascara.
One more thing…stick to it! You don't need to clock onto your site from 9-5, unless you want to. Stick to around the same time and around the same days. Fans and followers will become regulars if you are on specific days/times usually. If you don't feel like being on cam a certain day, don't! You'll make less money because your fans can tell when you're into it and when you aren't.
That's it! Happy camming and be safe!