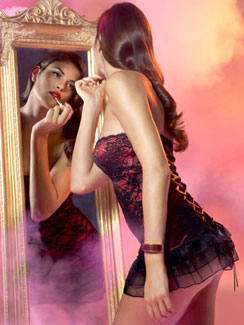 This guest post was written by independent web cam model Dynamite. She gives a nice advice on how to keep your fans updated on your current appearance.
This is the most common question I hear daily and I am sure you do as well. Describing your outfit each day via text chat can be tedious and your message may not come across as enticing when you have answered the same question over and over again.
Let's say today your wearing a red laced lingerie piece, black bra and panties, a garter, black thigh highs and PVC stiletto thigh high boots. A guest looking for a web cam show then asks you the infamous question "What are you wearing today?". The first time you answer the question, you may describe it in detail like above but let's say you have had answered that question 5 times prior to this guest. Your text will grow shorter by mid day to something like this "I'm wearing Red lingerie and stockings". Now that you have condensed this your outift might not sound so appealing and convincing anymore.
Instead, offer your guests a picture of what you are wearing each day and simply send them the link! Place your link in your messengers status, twitter, and other various networking sites you use. Doing so not only gives your guests a better sense of what to expect but also a great traffic driving tool. My fans love it and so will yours!
Check out my example http://dynamitexxxcam.com/shows
Happy Camming!
Dee