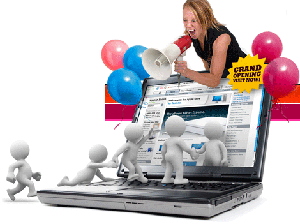 Everyone wants to become independent of something. Most of us want to be financially independent. If you enjoy webcam modeling busines most likely you want to become independent cam model. But what are trying to be independent of?
Any busines depends on many things so it's no possible to be independent completely. You are dependent on internet connection, your computer and many other little things. But what every web cam girl has to be independent of is traffic. To be independent cam model means to control the flow of traffic to your site. Traffic means the amount of visitors who go through your site every day. Here are 3 ways how you can get this traffic:
1. Be present on major Social Media sites
Facebook and Twitter are the most popular ones these days. If you don't have profiles in this social media sites sign up as soon as possible. In every profile it's possible to put URL of your site or your host site's profile page. Submit some hot non-naked pictures and you'll be getting a bunch of  hugry guys to your site every day. Also you need to be active in these social networks i.e communicate with your online friends
2. Search Engine Optimization (SEO) of your site
If you have your own web site make sure it's optimized enough for search engines (Google, Yahoo, etc). The search engine traffic (visitors) is the best converting one. There is a set of rules you need to follow to have your site optimized, nothing really complicated. If you are too busy to do it yourself and have budget you can hire SEO consultant. Contact me if you need help with this.
3. Set up your blog
Everyone who has its own business should have blog these days. It's like your Internet home. For cam model blog is useful even more then for other types of businesses because cam girl can feature herself on her blog. Blog attracts long term fans most of whom would be interested in pay cam shows.
Do you know any other ways to become independent?
Update: all free spots are already taken. If you are interested in having your own blog check out iCamModel eBook