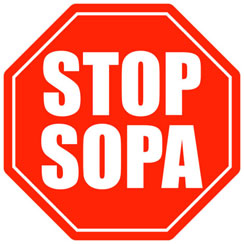 Among all the things webcam models have to concern them-selves with while trying to earn an income like keeping their performances fresh and staying up to date with the newest trends, it is now time to add keeping up to date with political issues as well.
If you are not familiar with SOPA (Stop online piracy act) it is time you start familiarizing yourself with it. Up to this point it really didn't concern the webcam site sector of the Adult Entertainment industry too much, but with the newest changes being on the table this may change in 2012.
At first glimpse the SOPA law may not affect the mega webcam model sites, but once you start reading closer and a bit between the lines you can see the issues emerging.
Take a look at this article and read it very carefully. SOPA is planning on going after websites now as well and that will include the mega webcam sites like LiveJasmin and Streamate and many of the clips4sale stores as well, since they can not control all the products the individual studios offer.
How could a studio or webcam show be in infringement? Belief it or not, even if you use music as a background for your show which is not public domain, or a snippet of a movie in the background which you have no license for, or use a dubbed background of a scene from another persons movie in your own product it is now copyright infringement and with that falls firmly under SOPA law.
Sounds crazy doesn't it, but that is what SOPA is all about. Closing down any avenue that could possibly take anything from another performer and studio to use as part of your own product and persecuting to the fullest extend of the law those offending parties.
How does this affect you if you are not in infringement of any of those illegal actions, but are a performer on a mega webcam site like LiveJasmin and Streamate or use specific clips for sale outlets as your main income? The answer is simple. If the website is found to be in infringement of the SOPA law it is in danger of being shut down. Since they have no control and have no way of monitoring each individual Studios or Webcam Models content this can very easily happen. It only takes a couple of bad apples to cause the site to be shut down or heavily penalized. This means you can be out of a job without any prior notice and/or loose your already accumulated income since their assets will be seized during such a forced close down.
How can you protect yourself from this is the next big question which should come to mind and gratefully the answer is an easy one. The best course of action is to be in sole control of your webcam business. This means you are the one who controls everything that is available and you make certain that no infringement takes place. The only way you can achieve this is by running your own webcam business and website.
Aside from all the benefits owning, operating and maintaining your own webcam site already brings like keeping all your own profits, having complete control of what hours you work, which shows you wish to offer, you can now add the guarantee that you will not be shut down unless you yourself break the law.
As a smart business person, owning your own webcam site is really the only way to go in this time and age with the laws constantly changing and the adult industry being more and more restricted. By owning your own webcam site you can also keep up with the newest trends and do not need to seek the approval of a mega webcam site or clip for sale site who may or may not allow you to offer your particular niche due to their own "moral" stance on things.
Allow me to give you a small example on this. Zappa (clips4sale) has several months ago removed the hypnosis category from its listings which ironically is one of the better selling categories. Their reason was that it was "manipulation of the persons mind, without their consent", which is hogwash since consent is given the moment the customer purchases the clip. You can still add this particular niche to your studio, but now have to place it under some other category which will not bring you the traffic to your product as it would if you could place it in the right category. If you own your own webcam site however you can offer this sort of product for sale, labeled correctly and with a much better chance of profit for you.
The motto for every webcam model or adult industry performer should be: "Know the laws, be smart, and run your own business the right way!"
Now of course you may be worried about the cost of owning your own webcam site, or do not have the technical know how to build it. Perhaps you just don't have the time to learn to build a professional looking and attractive webcam site in which to house your personal webcam model business. Do not let this hold you back. iCamModel Service is there for you and will help you get up and running within days for a very small one time fee. Matter of fact this is the perfect time to get started since our already low price of $249.00 complete start up cost is discounted by 20% for the holiday season.
Take the worries about SOPA and any other law which may end up costing you your work environment by taking the bull by its horn and become an independent webcam model with her/his own website and full control over what you offer and your income potential.
I want to insert another quick thought into this before I close for today. The economy has taken a big effect on the spending habits of the over day consumer of adult products and services. If you have been working in the adult industry for a while you have already noticed the drop in income. Can you really afford at this point to give a large percentage of your personal income away to someone else? Can your really afford to price your shows and products in a way that will allow you to meet your personal monthly income goal each month while having to give anywhere from 30% to 50% of your earnings to a big company with hundreds or thousands of studios and performers? The answer more and likely is "NO". Owning your own independent webcam model website is really the only way to go considering all the benefits and securities it will bring you!