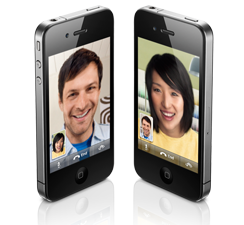 I've recently watched the preview of iPhone 4 and was amazed at how handy it could be for cam girls. It has so many new features that cam models can keep working on a go 24/7. If you are not iPhone user yet I would definitely recommend switching to it now because iPhone 4 will blow the mobile world. Here are 3 reasons why cam models should switch to iPhone 4:
1. FaceTime
FaceTime is the breaking feature that is going to change the mobile world. It allows to do a video call where both parties can see each other by holding their phones in front of their faces (or other parts of body LOL). This is exactly what web cam modeling is all about. But with iPhone 4 you are not dependent on your computer and physical place anymore.
At this moment there are some restrictions though. It will work only when other party has iPhone 4 as well and both phones have to be connected to the internet via Wi-Fi. However very soon third party applications will support FaceTime which will enable communication with other side that is using computer. Imagine that Skype app on iPhone 4 starts supporting FaceTime. This would mean that you can video chat with your fans who have Skype installed on their computers from any location that has Wi-Fi (e.g. Starbucks, Airport, Hotel, etc).
In case you use Android phones, check out this article on FaceTime alternatives for Android.
2. HD Video Recording
Apple has put significant effort into improving iPhone's 4 camera. Now it allows to record a video in high definition format (HD 720p). It also has manual focusing capabilities and built in LED light. Once video is taken you can edit it right on your iPhone and upload to YouTube or Facebook. This will let you easily create video content any time you want and publish it right away on the internet. You can bring good traffic to your site by keeping your Facebook and Twitter fans updated with video content.
3. 5-Megapixel Camera With Led Flash
Cell phone cameras have recently become one of the easiest ways to upload pictures to social media sites such as Facebook and Twitter. This is what keeps your fans active around you on these sites. But the quality of pictures taken by cell phone cameras is not that good in many cases. With iPhone 4's new 5-megapixel camera you should be able to take pictures of high quality even in dark environments (with the use of built in LED light).
Conclusion
Because the new generation of cell phones (smart phones) makes it so easy to publish content on the Internet every cam girl should be using cell phone to grow her fan base. Smart phones will replace laptops completely in the nearest future and iPhone 4 is the big step towards this. So if you want to be ahead of the game get your iPhone 4 as soon as possible to be above the competition.
Here is the video demo of new iPhone 4:
Are you using cell phones to interact with fans? What is your favorite cell phone right now?