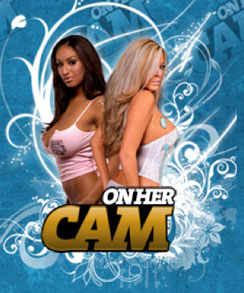 I was following OnHerCam (OHC) since I started this blog. I was always amazed how this site is different from other web cam networks. It focuses mostly on quality rather than quantity, treats their models with respect and uses the latest promotional methods to drive visitors who actually spend money. On September 12, 2010 OHC launches 2.0 version of their platform which will offer many cool features for cam girls who partner with their network. It combines all the ways you can make money as webcam model in one place and allows you to be way more efficient. So here is what OHC 2.0 has to offer for cam girls:
1. Ability to block users by state/province/country
Many cam girls especially beginners worry about not being recognized in local area where they physically live. OHC 2.0 allows you to control who can see you. So now you can rest assure that no one you physically know will see you modeling online.
2. %50 to 65% Payouts
While many other networks pay %35-%45 to their models OHC pays up to 65%. These are the highest payouts in webcam modeling industry.
3. Earn money by referring other models
This is one of many other ways you can make money with OHC 2.0 besides just selling cam shows. You get paid $100 for every model you refer as long as she is active on the site. If you refer your friend you can share this $100 fifty-fifty

4. Weekly pay and several payment options
While many other networks pay twice a month, with OHC 2.0 you can choose to get paid every week. They have different payment options like bank wire, check, won't mention ePassporte here since they are in trouble

Plus in October, 2010 they are going to offer direct deposit option which is really great!
5. 24/7 support via email, messengers or phone
No mater what kind of problems you have (in most cases technical problems) you can reach their support 24/7. If you got stuck because some technical problem prevents you from working, you losing potential money. So it's very important to be able to resolve any issue as soon as possible.
6. Ability to kick and ban users from your room
No one should distract you from enjoying your work. OnHerCam 2.0 offers all tools you need to control who interacts with you. You can either kick out some bad guy from the chat room or you can ban him forever
7. Offer coupons / discounted rates to your "special" fans
This thing rocks! Many cam models promote themselves outside of the cam networks and offering coupons is a good initiative to attract new paying fans. For example if you have solid Twitter following you can just tweet out special offer on your next show and see how many more fans you get.
8. Sell photo sets and video right from your profile
Many cam girls don't realize that besides cam sows they can sell their picture and video content as well. And I'm not talking about snapshots or recordings taken during cam shows (although you can sell this as well). I'm talking about high quality content taken by professional photographer. Sure you'll have to pay from your pocket to shoot this content but you can sell it for more because quality does matter.
9. Take special pic/video order requests for a fee
This trend is becoming more and more popular these days. Fans love to feel special by getting personalized exclusive videos where model calls them by name and fulfill their fantasies. OHC 2.0 allows easily to accept these kind of requests and sell it for more
10. Internal email system
OHC 2.0 offers internal email system which allows to maintain contact with your fans when you are offline. This is good wen you can't perform cam show for whatever reason and want to update your fans so that they don't forget about you. Or you can use it to send announcements, contests, etc
11. Bonuses for well performing models
OHC values their models and come up with all sorts of bonuses for the most active ones. Either it's cash bonuses or gifts such as new webcam or Apple iPad you do get appreciated for your hard work besides getting paid for the cam shows
12. Making extra money with VIP members
OHC 2.0 supports VIP members area which combines high paying customers. You can make extra money by providing content to these VIP members or by doing private chats with them
13. Make extra money by doing promotional content
While some networks don't even ask their models permission and use their pics and videos to promote their sites, OHC actually asks for the permission and pays you for using your content for promotional purposes.
14. Hourly shifts with guaranteed payout minimum
As long as you active on OHC network and have a loyal fans you can get guaranteed payout minimum for hourly shifts. This way you don't have to worry about wasting your time in free chats and not getting any private chats. You're still going to get paid even if you don't get any private chat during your shift (which is less likely to happen). The only thing they ask in exchange is that you be online at that specific hour. You will be creating your own schedule.
15. Have your own site or blog professionally designed and set up under your own domain name
As long as you keep good working relationship with OHC they'll help you to set up your own site under your own domain name. It could be either blog type of website where you will be able to attract new fans by posting free teasing content. Or you can have a fully functional solo model web site with private members area where you will be able to post your private pic sets, videos and perform cam shows. Your fans will have to buy monthly subscriptions to access your private members area.
16. Cross promotion
As long as you are active on OHC network they'll let you cross promote your own web site. Many cam networks will ban you right away if they notice that you are trying to steal their traffic (for example by giving out your site name in free chats). OHC is fine with that as long as you keep their customers happy.
17. You can use OHC 2.0 software to power your own site
This is another great give away that OHC provides to their models. Weather you have your own site independently or OHC built it for you you can leverage their innovative technology to power your members' areas with free member video chats, voyeur cams or one-on-one private chats. Plus you will have access to archives of these chats that you can provide to your members for free or sell it to them.
18. Active community which extremely supportive
OHC has very active community that combines other cam models and industry professionals. They run their own forum where you can get help or advice from other models or interact with fans. You can also follow their blog for the latest news and tips.
Another god thing about OHC is that they actively pursue users who record and distribute video chats and content. So you are going to be a part of strong and supportive team.
19. Visit industry events for FREE
By being a part of OHC network you can attend special promo events, photo shoots and industry conventions at no cost. You can even earn money by attending this events.
Conclusion
OHC 2.0 gives a whole set of tools for webcam girls to run successful webcam modeling business. With such high payouts like they offer it's definitely worth to consider joining their network. If you are interested in becoming OHC model Apply Here.
Any OHC models reading this article please share you experience with OHC in the comments