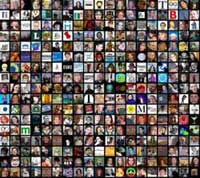 Many cam girls already promote themselves on Twitter getting additional high quality traffic to their sites. The more followers you have the more chances are that they become paying members of your site. Here is how you can both increase number of followers and their quality/loyalty.
Periodically post pictures of yourself on TwitPic
Most followers of any cam model on Twitter are males. They enjoy your posts but they'll enjoy them even more if you post pictures of yourself on TwitPic periodically. This way your followers become more interested in you and in what you are posting. Your posts will become more prominent for them because your followers will assume that it may contain another picture of you. It shouldn't be a problem for you to take a picture. You can easily took a picture of yourself in mirror with no one help and upload it to TwitPic. All this can be done with cell phone.
Engage your followers in different activities
You can come up with many ideas where your followers can participate in different contests. For example you can announce a contest where the first who answers your question will receive the hard copy of your picture with autograph. Or you can give a buzz by running a contest where the first 200 new followers will be participating in a lottery where 10 winners will receive some prizes. You'll get much more than 200 new followers when this buzz spreads out.
By building new and loyal followers you can convert  3%-5% of them into paying members. This is what statistics shows. You have to do something different in order stand out from others. So use these techniques or come up with your own variation and grow your high quality followers' number.