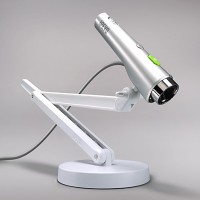 This review was kindly performed by Bella Bellini in response to my previous post about IPEVO Point 2 View USB webcam. You can watch video review in 2 parts at the  bottom of the post or read the text version below.
I've been working as a webcam model for the past two years and every day I interact with hundreds of people in live cam shows or free video chat. My workday is never routine. Each person who enters my chat room has specific requests, preferences, and fetishes. My goal is always to give the best show possible so that when they leave my room they are satisfied and think 'Wow, I have to see that girl again!'
I've gone through four different webcams and I can tell you that nothing ruins my day online more than dealing with cam problems. The last thing I want is to get frustrated during a show because people will pick up on that and start leaving my chat room, which means less money for me.
From my experience, I need a webcam to do the following things in order for me to enjoy using it and not smash it under my heels in frustration!
1.    It needs to be compatible with my computer and OS (I'm using a Macbook Pro with Snow Leopard)
2.    I need to look fabulous! That means it should work with the lighting set up that I have, which at the moment isn't as professional as I would like. So I need to look good even under low light conditions.
3.    It needs to be able capture me in different positions without too much fiddling. My shows should seem effortless and nothing disrupts the mood more than stopping everything to fuss over getting the right angle.
4.    I must be able to use it to shoot webcam photos for my profile and promotional material.
5.    It must be able to record videos so that I can make custom videos for members of my site, as well as promotional videos so that I can increase traffic to my chat room.
Up until now, one of my biggest issues was finding a webcam that is compatible with my Mac computer. The built in webcam in my macbook pro doesn't have the high quality video image that I need to do shows. I've tried using a video camera on a tripod, but my mobility was very limited because it  wasn't able to pan/tilt. I've been using the Logitech Pro 9000 for the past few months and it is a very good webcam. Unfortunately, its software isn't compatible with Mac OS. I can still use it, but I can't adjust the settings to improve the video quality or use it to take webcam photos. So I've been jumping back and forth between using in on the Mac OS and running it in windows XP through boot camp. I can use the software in windows, but I don't like using windows and it wastes time to switch to boot camp. If I use it in the Mac OS then my skin tone looks very washed out, which doesn't exactly put a smile on my face.
So I was very excited when I was asked to review the IPEVO Point 2 View USB webcam because I read on the website that it was compatible with Mac OS. I also loved that I had the option of using it on a flexible, compact tripod or clipped to my laptop screen. I'm definitely not a technology expert, but it was very easy to install the software and figure out how to use the cam.
At the moment I am doing webcam shows on three different websites and the IPEVO Point 2 View cam worked perfectly on all sites. The video quality on my preview screen is excellent and the people in my room said the same thing, which is important because sometimes they don't see the same thing you see on your computer.
I can't tell you how much I love the little tripod that comes with the webcam. It is small enough to fit on my little table next to my laptop. But I can also move it onto the arms of my sofa or any other surface so that I can move into whatever position I want or I'm asked to get into. This really makes my shows more fun for me, more exciting for the viewer, and my shows are longer because I can offer the viewer more options. I also like that I can detach the cam from the tripod and it is about the size of a small flashlight, so I can do close-ups and point of view shows where the viewer sees what I see when I'm touching my body. Guys love that!
The IPEVO Point 2 View is really easy to use. You have the option of using continuous focus, which focuses on you as you move around. Or you can use static focus, which keeps the focus on a focal point, like you! I have to confess that I'm not really into reading manuals;) I like to try things out and see how the features work for me. However, I did read the manual since I was reviewing the webcam and it is suggested that you use continuous focus during video streaming. Personally, I preferred using static focus because I found continuous focus jumped around a lot. So I recommend playing around with the features until you are happy with what you see.
I've already recorded a few videos using the IPEVO Point 2 View webcam and I can tell that I'm going to be able to shoot videos more frequently than I used to which means more money for me! It is very easy to adjust the settings to get the saturation and contrast that you want before closing the software and opening up Quicktime (or whatever video recording software you use) to record the video. I found that recording on high quality at  640X480 produced the best quality video.
It took me a while to figure out how to take good quality photos with the IPEVO Point 2 View webcam. I was taking photos on the 640X480 resolution setting, which is what I used to shoot video clips with. The photos were very blurry which was confusing to me because the videos I shot were such good quality! I fiddled around some more and found that it is best to take photos on the highest resolution possible in the IPEVO Point 2 View software. So you'll see the fan signs that I shot were taken at 1600X1200 resolution and are fantastic quality for webcam photos. You can zoom in really close using the software and of course use the awesome little tripod to get different angles that you would never be able to get with other similar priced webcams.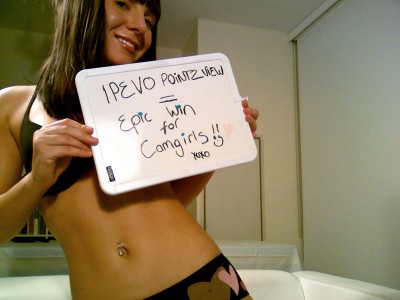 My only criticism would be that it would be helpful to be able to use the IPEVO software while you are live on webcam or recording videos. Other webcams let you adjust the contrast, zoom, and saturation while you are live or recording. I wasn't able to use the IPEVO software while I was live on cam and Quicktime didn't let me keep the IPEVO software open while I was recording a video in there. So that would be my suggestion for a future upgrade.
In conclusion, I can say without a doubt that I will be using the IPEVO Point 2 View webcam as my primary webcam for my private cam shows and my member cam shows on MissBellaBellini.com. It is compatible with my mac, which makes me really happy! I can also shoot videos with it and take great webcam photos to promote myself more and earn more money. But I am totally in love with the little flexible tripod that lets me get into all sorts of positions to make my shows hotter, more exciting, longer and keep guys coming back for more!
So give this webcam a try, it is under a $100 and does more than any other webcam in its price range out there at the moment.
Video Review of IPEVO Point 2 View USB Webcam – Part 1
Video Review of IPEVO Point 2 View USB Webcam – Part 2