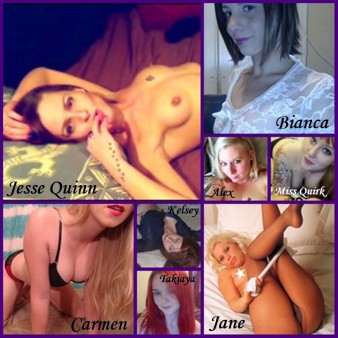 If you're an independent camgirl (or on your way to becoming one) your twin main concerns are probably the two that are shared by all participants in the niche of indy camming: promotion and payment processing. As all indy camgirls know adult processing rates are high and quality clients can be difficult to acquire, and these twin challenges can act as barriers to success for camgirls who struggle with overcoming them.
My name is Jesse (I'm known around the 'net as Jesse Quinn and Quinn69) and I've been an independent camgirl for quite a few years now. I'm well established in the niche, and I decided it was time to venture into a new project. My aim was to create an independent camgirl listing directory that addresses the needs of indy girls by offering quality traffic, multiple features for selling cam shows, content and pay-per-min phone sex and the highest payout percentages available among indy camgirl listing sites. In sum, I wanted to build a listing directory that I would be excited to join if I were a camgirl in need of payment processing and promotion. Here I'd like to introduce LiveCamModelShows.com, an independent camgirl directory for skype shows, phone sex, custom videos and 'download now' videos, all at a payout percentage comparable to those offered by adult IPSPs (internet payment service providers) such as CCBill and Epoch.
In joining LiveCamModelShows.com you receive promotion to help you build your client list along with a base payout percentage of 80%, which rises to 85% for camgirls who earn at least $500 per week. Payouts are sent out weekly with a one week hold via check, Payoneer or Paxum. You can sell cam shows, custom videos, offer pay-per-minute phone sex and your own catalog of videos available for immediate download by your clients, making the site a one-stop-shop for all the products and services that you offer. Thus far no other listing site offers comparable payout rates, let alone the range of services and features that are available to you. In joining the site you can pick and choose which features to use, as my philosophy for the site is to make it as customizable as is possible for each camgirl who joins. After all, who knows your business and your client base better than you do?
I'm excited by LiveCamModelShows.com and I hope you will be as well. If you'd like to learn more about your rights and responsibilities on the site, what is required to join or are just curious to check it out for yourself you can click here for more information. If you're an independent camgirl prepared to log in and engage with your clients you are welcome to join our community of camgirls who offer the best cam shows and cam girl videos, and who get paid what we deserve for it.
Happy Camming