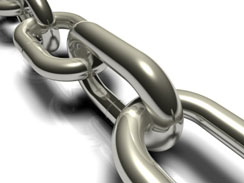 I'm getting a lot of questions from cam girls who just started their own website on how to get links to their site from other sites. Links to your site is one of the most important things if you want it to survive among thousands of other similar websites. Links will be constantly bringing you fresh traffic of fans that you can make money from by selling cam shows, picture sets, videos, used pants, etc. It's not that hard to get links to your site and here I'm going to explain the FREE way of doing this. Also after reading this article you'll be able to get text link pointing to your site – GUARANTEED!
But first a little bit of theory. There are two types of links – text and image. You need to hunt for the text links because they are very good for search engines like Google. When Google sees text link pointing to your site it starts showing your site in search results (when somebody types certain phrase in Google). This can bring you tones of FREE traffic.
The process of getting text links to your site is very easy. All you need to do is find other sites that somehow related to your site and exchange links with them. By exchanging links I mean when site that you found puts text link pointing to your site and your site has link to that site in return. It may sound all complicated so let me show you exactly step by step how to get text link to your site. It's going to take you only few minutes
Go to webcams411.com . As you can see this website is related to webcam modeling – exactly what you need. It has reviews of some webcam sites and also features independent cam girls. If you scroll down a little you'll see the section called "Freelance Webcam Sex Girls who run their own websites":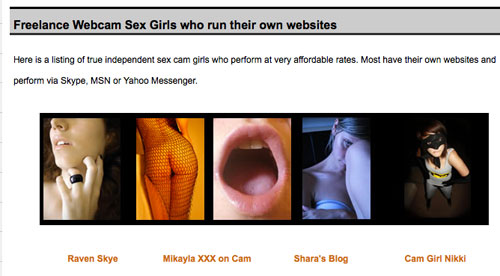 As you can see this section has links to independent cam girls sites. At the bottom of this section you can see this message:

This means that the site owner offers you to exchange links. All you need to do is send him an email to specified email address where you should specify what text you want to use for the link (in most cases it could be your website name) and address of your website (URL). For example in this section you can see a link with the text "Cam Girl Nikki" that points to http://camgirlnikki.com/ .
Note that this kind of sites like webcams411.com will ask you to put a link back to them. You can put this link in the sidebar or on special "Friends" page.
Conclusion
Getting links to your site is one of the most important factors that determines either your site will succeed or will be dead like many other sites in the Internet. So if you decided to run your own site make sure you constantly hunt for the links. There are tones of other sites like webcams411.com that offer link exchanges. Just make sure that the site you exchange links with is clean without crazy popups and some other "stinky" stuff.