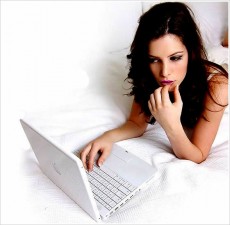 Before site becomes successful it has to be promoted really well. If you do nothing to promote your site it won't have any traffic and without traffic it is useless. But if you promote it rightly you can make a fortune with your site. So for the first few years you should put a constant effort in promoting it. If you've just started your own site you should spend the same amount of time for marketing as for producing the content. Here are 5 way how cam girl can market her site:
1. Search Engines Traffic
Search engines can bring you crazy amount of traffic. But for this to work your site has to be constantly updated with the new content that should combine text, pictures and video. Blogs are ideal for this since the whole nature of blog is to be regularly updated with short text stories and search engines just love them.
Although for search engines it's not enough to keep your site regularly updated. You need to have links pointing to your site from other popular sites. Only then search engine will take your site seriously and show it higher in search results.
2. Links From Other Sites
As I mentioned above having links to your site plays very important role for search engines. But these links also bring you traffic from people who actually click it. The most affective and valuable links are text links and not banner ones. People are so used to banners these days that they just ignore it.
There are many ways to get text links from popular sites. For example you could have a review on a popular site that features cam models. Review will be in the form of text article with your picture or video. This article will link to your site in multiple places and you will get two wins at once: fresh traffic from those who read the review and clicked your link plus search engine will notice these links and take your site more seriously.
3. Mailing List
You should build mailing list from the very 1st day you start your site. Email is the most affective way to reach your fans. They most likely will read your emails because they intentionally gave their email addresses to you. You should put sign up form on some prominent place on your site and encourage your visitors to sign up. The more your web site exists the bigger mailing list becomes. With thousands of email addresses in your possession you can be sure to make money with every email you send out to the list. For example once a month you can send out an email announcing a feature show with link to your site where they can easily buy it. Suddenly hundreds fans will click that link and get to your site and most likely some of them will buy the show.
4. Be Active On Social Networks
You should be active at least on two the most popular social networks – Twitter and Facebook. Your site name must be present in your social network's profile and any new updates you post to your site should be shared there. Once you build a big following on social networks your updates will become viral which will bring you a good traffic. For example let's say you  have 3000 followers on Twitter and you sent out a tweet with URL to your new video. It gets re-twitted by your fans and friends of your fans start watching this video and some of them become your new fans. These new fans will find out about your site through your profile or tweets. The same thing happens on Facebook. The key is to keep your fans active by spoiling them with some free content like pictures and videos.
5. Watermarking Content
You should watermark your pictures and video with your site name in it (that's why it's so important to have short and easy to remember domain name). This way you can get free traffic from those who view your pictures and video. But to get this traffic you need to promote your picture and video  content mostly through social networks. For example you can post non-nude video on YouTube or share your picture/video on Twitter and Facebook.
Conclusion
If you decided to run your own web site you got to realize that online marketer should become your second job. It will be tough at the beginning but once it starts working you're going to be surprised with the results. So you'd better love being marketer of your site.
Do you use any other ways to get traffic to your site?