You as web cam model do know that number of visitors to your room correlates directly with amount of money you earn. This is very important especially for beginner cam girls who don't have funs who visit them on a regular basis.  So, how to increase your visitors number?
Web cam site you are working on gets tons of visitors every day.  Some of them come just to watch with no intention to spend money. But a small percentage comes with money. This small percentage has a lot of options since there are many models around to choose from.
Now there are two way to increase the number of visitors to your room:
Keep your profile fresh and interesting
This way you will stand out from other models that don't care much about their profile. Member can learn more about you from what you've written and from your pictures which you should carefully select. So, this is the first thing you should do. Come up with outstanding profile and update it regularly.
Get Visitors directly from Search Engines and from other sites
Now what does it mean? Visitors who come to web cam site where you work are either regular visitors or random ones who just got there through other adult sites. Now imagine how many potential customers are browsing through adult sites every day. If for example you can get 100 of them to your room every day you'll have a good chance that at least 3 or 4 of them will spend money in private show.
This figure shows the flow of visitor's traffic: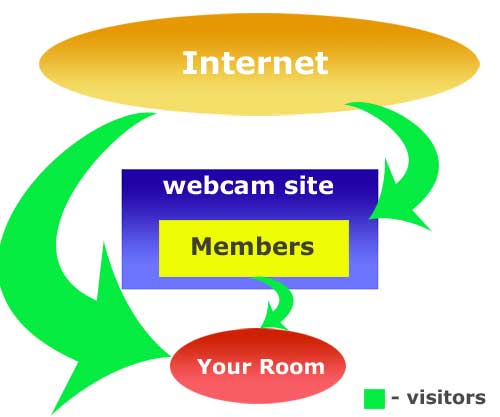 There are certain techniques that will bring you tons of visitors outside of webcam site you are working on. These visitors will already be interested in you and you will have a better chance to get them to pay and convert them to your regular customers. In the following articles I will explore these techniques, so stay tuned. Any comments are welcome!