I have already wrote the post on how cam models can make money with affiliate links. But that was the theory. Today I'm going to show you the real example of how I made $346.99 in 15 days with affiliate links that I placed on my blog. It took me only few minutes to put those links and I've already made $346.99. The good think is that I'll continue earning money through these links for the long run.
Now my blog is not the same as real cam girl blog. I mean cam girls write posts that tease their fans to buy a cam show or picture/video content. My posts are targeted for cam models instead with useful tips and tricks (like this post). But Google doesn't know the difference. It sees that I use key phrase like "independent cam girl" in my blog posts a lot so it shows my site in search results when somebody types this phrase in Google search: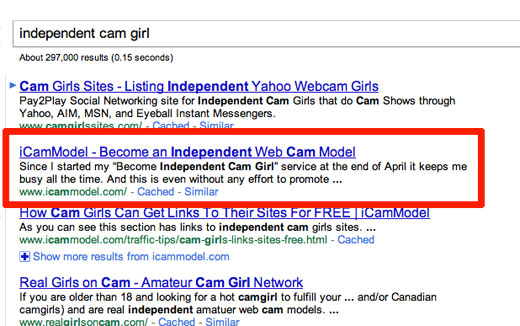 So when I was checking my site stats with Google Analytics I've noticed that I got a lot of visitors to my site who have actually searched for cam girls rather than for how to become independent cam model. Obviously those visitors were leaving my site once they figured out that this is not what they were looking for.
So I thought why should I give up these visitors? Why wouldn't I point them to what they were looking for in first place?. I.e they wanted to hook up with cam girls so why not to point them to the place where cam girls hang out.
So I signed up with OnHerCam affiliate program. They pay 20% of what customers referred through your affiliate link spend on their site. No matter if they spend money today or in a year you still get your 20%.
Then I did 2 things:
1. I've put a nice banner at the top right of my site that says "Came here for cam models?":

This way when somebody searches "independent cam girl" in Google, gets to my site and figures out that there are no cam models in there he would see this banner with intrigue question and most likely clicks on it. As soon as he clicks it he will be tagged as being referred to OnHerCam by me. And whatever he spends on OHC from this moment on, I will get 20% out of it.
Note that there is a good chance that he'll spend some money because remember, he was looking for cam girls at the very beginning when he typed "independent cam girl" in Google
2. Whenever I mention OnHerCam in my blog posts I link to to it using my affiliate link. You may be wondering why would I do this if I've already put the banner. Well, the thing is that many Internet users were so annoyed with all different banners for the last few years that they just don't pay attention to it anymore. It's called "banner blindness". That's why text links are so effective these days.
So going back to my example, when somebody types "independent cam girl" in Google, gets to my site and sees the article about OnHerCam there is a good chance that he'll click on one of the text links. This may be because he'll be intrigued by the OnHerCam site's name (that's why it's so important to pick the right domain name for your own site) or may be he's already heard about this site before and decided to check it out. You got the idea.
Results
It was a pleasant feeling to see how money started coming in just in few days after I made the changes above (which took me about 15 minutes to do). Here is the screenshot of my earnings for time period September 15 – September 30, 2010: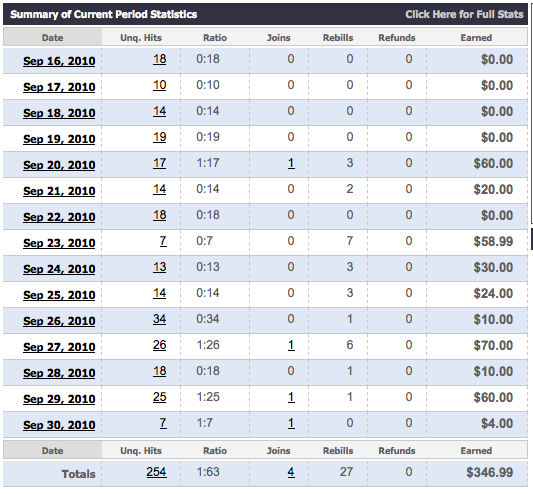 It shows that 4 new members signed up through my affiliate links and I earned $346.99 which means that these members spent $1734.95 in total.
Note that in most cases member referred by me was coming back to OnHerCam and was spending money on different dates and not all at once (it's called "rebills"). And I was still getting my 20% cut each time they purchased cam show. If it happens he comes back in a year from now because he misses his favorite model I will still get 20% of what he spends.
Conclusion
As you can see affiliate links is the very effective way to generate passive income for cam girls. You may be slipping or you may be out for vacation and they will still bring you the money. You do need to have your own site or blog though to use this method of making money.
If you already have your independent cam girl site or blog then use any opportunity to put affiliate links and you'll be surprised how easy it could be to make money this way.