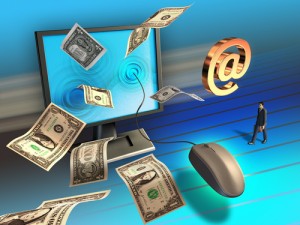 Every cam girl spends most of the time online interacting with fans or looking for new fans. But many just don't realize how easy it is to make money online besides doing private cam shows. I'm going to show how you can make extra cash by doing affiliate marketing. But first we need to clarify what is affiliate link and who are affiliates.
Affiliate is a sales person on the Internet who earns commission from every sale made. But on Internet everything is a little different than in real life. To make a sale all you need to do is to send customer to the web site you are affiliated with. If this customer buys anything on that site you will get your commission. And to send customer you need him to click a special link which is called affiliate link.
Let me make an example if it sounds too confusing. Lets say you become an affiliate of Amazon.com. Once you registered as affiliate Amazon gives you affiliate link like this:
http://www.amazon.com/?tag=<Your_Affiliate_ID>
, where  <Your_Affiliate_ID> is unique ID assigned to you by Amazon. If somebody goes to Amazon via this link and buys something you will get 4% of the amount spent.
Well that was a basic example to help you understand how all this works. Most likely you are not interested in being affiliate for Amazon. But how about cam networks you work for?
Every cam network has an affiliate program. For example if you work for LiveJasmin just check out at the very bottom of they site and you will find Webmaster Wanted link.  Once you register as affiliate you will get your very special affiliate link. And now the magic happens. When you give this link to one of your fans (who is not registered with LiveJasmin yet) and he buys your show, you'll earn $40 (even if he spends just few minutes in private). Or you can choose to use a different kind of affiliate link that will bring you 20% of what he spends on LiveJasmin for life with you or any other model.
Warning: you can't share your affiliate link in free chat of cam networks you are working for. It's against their terms of service. Also make sure you check with your network if it allows to open affiliate account besides having model's account. Some cam networks don't allow their models to become affiliates (which I think is really stupid).
All of this should sound good but you might be wondering how you can share your affiliate link with fans if you can't dot this in free chats on cam networks. Here are some of many ways how you can do this:
1. Your Personal Blog
If you have your own blog you can put affiliate links inside your posts and on the side bar. This is how many people make money with blogs. If you keep your blog regularly updated your fans will come  back to read new posts. And these new posts can have affiliate links that will be clicked. The more fans your blog has the more money you can make through affiliate links. Plus you will get search engines traffic as well. I know people who make $50,000 – $100,000 a month(!) on their blogs in mainstream. And with adult content it's much easier to build a solid fan base.
2. Twitter
I've already written how you can build a solid fan base on Twitter. When you treat your Twitter fans good and keep them updated with teasing pictures and videos they will be eager for every update you post. So once in a while you can put your affiliate link in one of the updates and many of your fans will follow this link and possibly make a purchase earning you the commission.
3. Forums
Forums can be another place where you can share your affiliate links in forum threads. You may start your own thread or you may participate in existing ones. Just make sure that your forums posts with affiliate links look natural, otherwise you will be banned for spamming.
4. Commenting On Other Blogs
Most of the blogs allow to comment on their posts. So you can post a comment with your affiliate link in it. Note that comments get moderated by real person before they are published so make sure it provides some value to the post. Otherwise blog owner won't approve it.
5. Amazon
Ha-ha. We are going back to Amazon here. I've already written how you can build a wish list on Amazon to get gifts from your fans. And I've also explained above how Amazon's affiliate program works. So you can combine these two together. You send your fans to buy something from your wish list through your affiliate link. No matter if your fan buys something from your wish list or buy something for himself, if he makes a purchase within 24 hours of using your affiliate link you'll get your 4% commission.
Conclusion:
Ok, that was a long post but I hope very worse reading. The point of all this is that by working as cam model you interact with your fans online a lot. During this communication you can send links in one form or another. Many sites whose links you send have affiliate programs. So why not to use a chance to earn extra cash? People make thousands dollars a day doing this in mainstream so why cam girls can't take advantage of this as well?