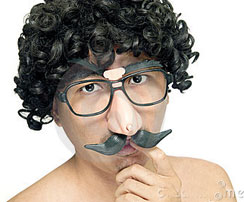 The internet is notorious for giving browsers complete anonymity and with that comes a sense of security knowing that one can explore sexual kinks and fetishes without anyone knowing.
Web cam models are often an outlet for exploring different fetishes and kinks so it helps to know how to work with your kinky customers. Very quickly you will find out that many customers have very specific scenes in mind that are not mainstream, many you've never even heard of!
Instead of turning down customers with unusual tastes, its best to learn about them to help you develop regulars. Many web cam models actually prefer working with certain fetish customers because the requests seem easy, even silly at times. Who wouldn't want to spend 20 min, 30 min, even an hour or two with a customer who simply wants to admire your feet or watch you eat pie? It gives you a break from the sometimes tiring work of direct sexual stimulation. Plus, if you do it well, you will gain a regular customer.
The best thing you can do to keep these customers is to do your research.You don't need to read stacks of books on BDSM, but it is helpful to become familiar with the most popular fetishes by doing a basic google search. You can also find a lot of information out by just asking your customer. Some will be happy to walk you through it or send you a private message with details of what they want. But don't rely too much on this method. If a customer with a popular fetish can go to someone else who is experienced, he will. It's just less hassle for the customer.
So what is the most popular fetish? There are some that are considered more mainstream: Foot fetish, humiliation, and role play. You will immediately come across these if you have decent traffic. Otherwise, it will vary on your look, where you advertise and the amount of traffic you have. Obviously, the more traffic you have, the more you will come across. If you have a dominate look you will get plenty of customers asking to be your slave! If you have a soft, submissive look, you might get different kinds of requests which fit your persona. If you fall somewhere in between, be prepared for anything.
You also need to do research in order to learn what you feel comfortable doing. You shouldn't force yourself to fulfill everyone's desires at the expense of your own comfort. Some fetishes will seem bizarre to you, but doable and others will make you feel uncertain and nervous or turned off. For example, a customer wants you to tickle your belly button with a feather. No big deal, right? You might think you have this fetish thing down and can do anything. The next customer asks you to pretend to be his sister! Maybe you are okay with this and play along, it is only play, after all. Or perhaps, you have siblings and this role playing scene makes you very uncomfortable. Do you see where research helps in this situation? If you know what kinds of role play are out there you are able to tell your customer what you do and what you won't do, saving time and awkward moments for both of you.