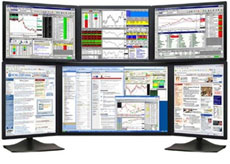 Every webcam site offers a unique environment to work in and it's important you find one that suits your personality.  Sites like WebCams.com have large model databases, so if you're alluringly cute, you could be quite successful on that site.  However, if you enjoy chatting to clients and can sell yourself (or want to learn how to),  LiveJasmin could be a good option for you as it has a free chat program for surfers to increase your exposure and build up your client list. Once you have a base site to work from, you can often work among other webcam sites at the same time to bring in more money.
Having multiple chat programs open simultaneously is the best way to get as many shows into your online time as possible. Many models run 1-3 free chat sites and have 1-3 offline sites open at the same time to earn faster. Using this method of performing, you will do better with some sites some days than others and will get a lot more paid opportunities than if you'd been signed to just one site.
While it's nice to think of monetizing your time this way, be aware that many sites prohibit their models working with other sites. Check the ToS (Term of Services) agreement with each site. Some ToS agreements don't allow you to use other sites so to stop having your account closed with them, you may need to be careful and either only use them or not use them during your multiple site sessions. LiveJasmin is the best webcam site to be signed up in if you're looking to have multiple webcam sites streaming at the same time as it does not prohibit working on other sites. You can juggle more than one chat site by leaving a standard message for the other sites when you go into private chat. Make sure site administrators don't view this message as it may breach their ToS and you may get your account closed.
Make sure you're organized before each cam session so you don't get flustered and remember your priority should be on paying customers rather than the free customers and you will learn over time that many free-goers are there to see what they can get from you for free (not all, but many). Teasing is the best way to get their cards out rather than giving the prize before they buy.
What is your experience with working on multiple webcam sites?