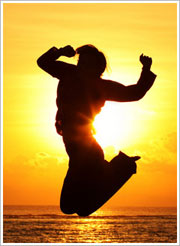 If you are working on cam sites like Cams.com or LiveJasmin and getting 30-35% from what you're earning it's time to start becoming independent. And as I mentioned before the reason you are dependent on these sites is because they have huge visitors traffic that your earnings depend on.
So what are the opportunities when you have your own traffic? With your own traffic you have to pay commission only for utilizing web cam platform that allows you to perform your cam shows. And this commission is much lower than you pay to cam sites you work on (around 25-35%). So basically you'll be getting 65-75% of your earnings. Or some cam models using instant messengers (IMs) like Skype or Yahoo and getting even larger share.
So how can you get this traffic? First of all there is no easy way. You'll have to work hard for at least 2-3 months to see the results. But when you look at how much time you spend in free chats and not getting any privates you can afford to spend a couple of hours a day to invest in your future.
First of all you need to start your blog under your own domain name. This is your own private home on the Internet where you can do whatever you want. You will not find this freedom on social networks like Facebook, MySpace and Twitter. Plus blog is the easiest form of web site to set up and update.
Then you need to update your blog regularly with fresh and interesting content. By content I mean short articles accompanied by pictures and video. This is where you'll have to spend half of dedicated time. The other half you need to spend on promoting your blog everywhere you can – social networks, blog directories, forums, other blogs, etc. If you keep doing this your blog will grow fast, you'll get thousands of returning visitors who'll be looking forward for your next show. Then you can start membership site but it's another story …
So, don't waste your time. Go towards becoming independent!
Update: all free spots are already taken. If you are interested in having your own blog check out iCamModel eBook