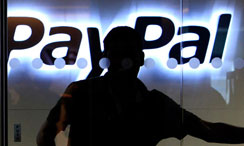 We all know it, we read it in their TOS, we have heard the stories of many adult performers and webcam models, and yet we still want to think it would never happen to us. I am talking about having our accounts shut down by PayPal if they even suspect that you are involved in anything to do with the adult industry.
PayPal has a strict anti-adult policy which they enforce to levels you would never even comprehend and this includes the sales of used clothing, articles, books, movies, artwork etc which is linked from an adult website.
Even a financial gift send from an adoring fan to your PayPal account with a note inside that is consider adult (vanilla or fetish based) in nature can trigger the investigation process.
Allow me to give you some examples of PayPal shutting down legit businesses which had a connection to the adult industry.
Recently a lovely webcam model opened up her webcam site. She didn't try to sell any webcam shows, talk time or clips via PayPal. All she did was install an option to buy some of her used panties (a product which is openly sold via the non-adult and partner site Ebay daily). On her very first sale her account was frozen and investigated. She is going to lose her account completely if she hasn't done so yet. What made the sale of an everyday product unacceptable in the eyes of PayPal? It was linked from an adult webcam site, which clearly broke their TOS rules.
The well known fetish and gay writer Jack Rinella had his PayPal account frozen and lost a large amount which came from the sales of his educational fetish based books, after PayPal decided to take offense to the subject matter. This was several years back, and a story he shared during a BDSM/ Fetish workshop. So it comes directly from the horse's mouth.
Fetish Educator and writer Goddess Bella Donna had her account frozen and shut down roughly 4 years ago after one of her adoring fans send her a cash gift and wrote a note of thanks including the words "my Goddess". Since at that time she had a chipin button (which accepts PayPal payments) located on one of her fetish educational sites, they decided to close her account down permanently.
Now this of course brings us to a predicament since PayPal is the widest known 3rd party billing provider out there. Most adult friendly billing processors do not allow the sales of tangible goods, but only allow you to sell digital delivery products.
What can you do if you wish to sell panties, stockings, shoes etc to your webcam site customers and fans?
You can open an Ebay store up for those goods if you like and now it once again becomes TOS acceptable as long as you do the following.
• Give it a vanilla non-adult name. For example "Jane's used treasure box" is acceptable, but you may have problems with "Webcam Mistress Joanna's used panties". Keep it non-adult, non-fetish, and non-sexual and you will be ok.
• Do not under any circumstances put a link from your Ebay Store on your adult webcam model website or blog.
Now what about those Ebay stores that sell adult content? If they don't shut them down they are in a mature section only and PayPal payments are not accepted. Which ones again brings us back to the original problem
Let's say you set up a spanking new Ebay store, got it approved and are not accepting payments via PayPal. How do you get your customers to buy the products if you can't link it from your webcam site?
Do the following two things. First secure your PayPal account up. You now have a legit online business via your Ebay Store. Add it in the merchant information section if you like under website URLs. Now you are nice and legit. PayPal loves Ebay Stores since they get to charge you twice. Yes the same people own both places.
Next put a note on your webcam site letting your customers know that you have used items for sale, but ask them to email you for the information. This way you can send them via email (away from your adult webcam site) to your Ebay Store.
Problem solved. As long as you NEVER connect your PayPal account from your adult webcam model site you can run the two different businesses without any problem.
Good luck and remember that nobody is exempt from the PayPal rules and sooner or later they will zero in on you. The more business you generate through them with adult content or perceived adult natured, the sooner they will have their little alarm software triggered. Your funds can be frozen up for many months, and none of us webcam models can afford that.