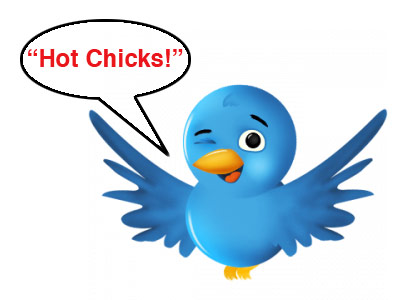 Being a cam girl cam be hard work, as well as lots of fun. However, being an independent cam model requires a lot of self-promotion. And, if you're like me, you don't have a lot of money to spend on promoting yourself. I'd rather spend my hard earned cam dollars on bills and shoes. 😛 Therefore, Twitter is an amazing option for marketing yourself, your brand, your cam shows for FREE. Who doesn't love free?
Let me give you an example how I actually made money and got cam clients by using Twitter for FREE. I now have over 16k followers but long before that many guys would DM (direct message) me and ask for a cam show. A lot of guys were time wasters (you get these A LOT in the cam business) but many were legitimate requests and I got some good paying Skype cam shows from using Twitter. I would Tweet sexy teasing pics of myself with a link to my indy cam profile or my Yahoo messenger name and I actually still get TONS of guys messaging me on Yahoo asking for a cam show because they found me on Twitter. So, there are so many FREE ways you can make a lot of money as an independent cam girl and one of the best of these is Twitter.
Twitter can be a little complicating if you're new to it. However, after many years of using Twitter and marketing many different products on it, including myself, I have come to know the ins and outs of it. Let's start with the first step. You need to actually create a Twitter account. Simple enough. Go to Twitter.com and on the top of the page it says create a Twitter.
Make sure you choose a Twitter name that you like because it will represent you and your cam girl brand every time you send a Tweet. My Twitter user name is Raven69Skye. This has my cam girl name in it, which is very important. You want all of your followers and those who are not yet following you to know exactly who you are. Don't pick a name like hotgirl19. That will not help market your brand.
Now, you have a Twitter account with a good name. The next step is to add a profile picture to your account. People will see a small thumbnail size of this picture every time you tweet or retweet anything so make it sexy but no nudity. Twitter doesn't allow nudity and why give it away for free anyway? 😉
Third, you should change your Twitter profile background. You can use one of the already-made default backgrounds Twitter offers or you can upload a sexy picture of yourself and click the box so it will repeat the image all over your profile background. This will show people, whenever they look at your profile, who you are and what they can get from buying a cam show with you. Then add words and your cam site or website links to your profile. Twitter gives you a space to add your website link so make sure to put it there. Then, write a short bio about yourself such as:
"I'm Brandi a hot 21 year old webcam girl with fake tits and a dirty mind. I love doing Skype cam shows so visit my site or Tweet me to play ;)".
Anything you want to say to show people who you are and what you offer. Quickly read my bio on my profile for ideas: http://www.twitter.com/raven69skye
Now, you have your account set up, your profile picture uploaded, a sexy background, and your profile filled out. You're almost done. Yay! The next step is to start following people. You want to mainly follow people who are in your industry or related industry. For example, when I was setting up my Twitter I typed in the search box the following terms and followed people with related accounts: sex, adult industry, porn, pornstar, fetish, fetishes, model, cam girl, webcam model, sex work, and so on. Get it? I sure hope so. Now follow new people every single day to build up your list but do not spam people or following thousands of people a day or Twitter will freeze your account and think you're a spam account. Just follow maybe 50 new people related to camming per day. This will help those people see you following them then they will follow you back and BAM! You're getting new followers.
Now, start Tweeting! Don't overdue it by Tweeting every thought that pops into your head or spamming people with your cam profile links dozens of times a day. A few Tweets a day should do it. Promote your cam profiles, tweet sexy enticing pictures of yourself, retweet other people's interesting quotes or sexy pictures, etc.
One more tip, Tumblr is a great free marketing tool, as well. And you can link your Tumblr account to your Twitter account so every time you post or reblog something on Tumblr it will automatically post it to your Twitter account! Twice the marketing for half the work. 😉
Before you know it you'll have over 16k followers like me.

It took awhile but I love Twitter and it's worth it. Happy camming and remember that you don't have to spend money to make money.

So, have fun and go get those new cam clients!
xo
Raven Skye
http://ravenskyexxx.blogspot.com